We have 27 years experience in producing titanium bolts and nuts.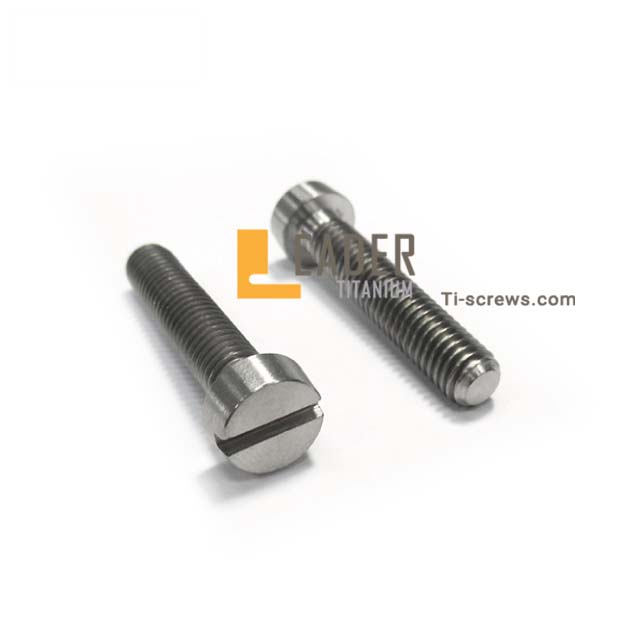 >Baoji Leader Titanium products is known for its strength and lightweight as well as excellent corrosion resistance to chlorides, sea water, and chlorine. Therefore, titanium lock nuts are an excellent choice for a large variety of applications.
>Titanium Slotted Pan Head Screws are also fully resistant to solutions of chlorides, hypochlorites, chlorates, perchlorates and chlorine dioxide. They are often used in chlorine related industries like pulp and paper and chlor-alkali/bleach.
> Titanium Slotted Pan Head Screws also work well in seawater applications as Titanium Slotted pan head screws prevent seawater corrosion up to 500°F and survive at ocean depths over a mile below the surface.
Titanium products fetaure:
>Superlight,
>High strength,
>Low density,
>Resistant to high/Low temperatures,
>Anti-corrosion and non-reactive to acids/bases
Detailed size of DIN85-Slotted pan head screws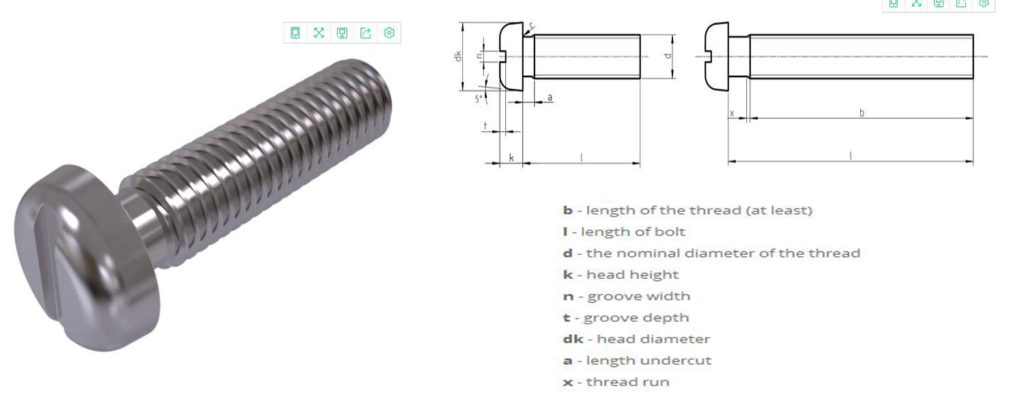 The Standard We Can Do
DIN912TAP(Tapered Head)
DIN931
ISO14583
Thread d
M1.6
M2
M2.5
M3
(M3,5)3
M4
M5
M6
M8
M10
P
0,35
0,4
0,45
0,5
0,6
0,7
0.8
1
1,25
1.5
a
max.
0,7
0,8
0,9
1
1.2
1,4
1.6
2
2,5
3
b
min.
25
25
25
25
38
38
38
38
38
38
dk
nom. = max.
3,2
4,0
5,0
5,6
7,00
8,00
9,50
12,00
16,00
20,00
min.
2,9
3,7
4,7
5,3
6,64
7,64
9,14
11,57
15,57
19,48
da
max.
2
2,6
3,1
3,6
4,1
4.7
5,7
6,8
9.2
11,2
k
nom. = max.
1,00
1,30
1,50
1,80
2,10
2,40
3,00
3,6
4,8
6,0
min.
0,86
1,16
1,36
1,66
1,96
2,26
2,86
3,3
4.5
5,7
n
nom.
0,4
0,5
0.6
0,8
1
1.2
1.2
1.6
2
2,5
max.
0,60
0,70
0,80
1,00
1,20
1,51
1,51
1,91
2,31
2,81
min.
0,46
0,56
0,66
0,86
1,06
1,26
1,26
1,66
2,06
2,56
r
min.
0,1
0,1
0,1
0,1
0,1
0,2
0.2
0,25
0,4
0,4
rt
ref.
0.5
0,6
0.8
0,9
1
1.2
1.5
1.8
2,4
3
t
min.
0,35
0,5
0.6
0,7
0,8
1
1.2
1,4
1.9
2,4
w
min.
0,3
0,4
0.5
0,7
0,8
1
1.2
1,4
1.9
2,4
X
max.
0,9
1
1.1
1,25
1.5
1.75
2
2.5
3.2
3,8
For more information please feel free to contact us, www.ti-screws.com
Email, Ade-titanium@hotmail.com
Whatsapp, +86-18291755582; Skype, Ade-0917