Titanium Socket Head Cap Screws are the solution for tight clearance, light weight and secure fastening.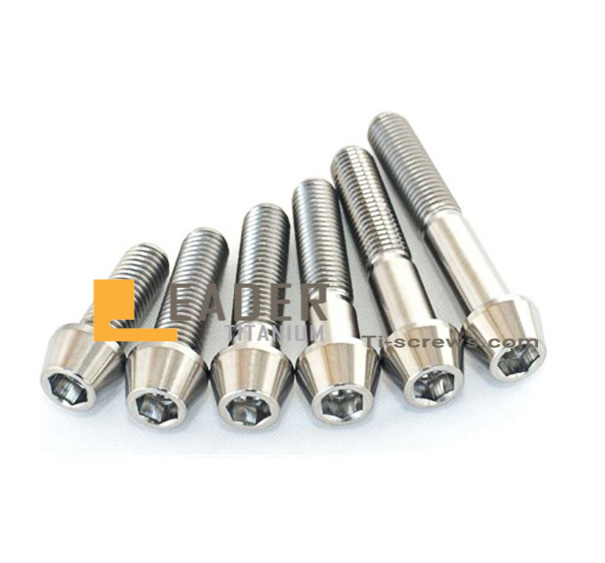 Socket Head Cap Screws are commonly used in machine assembly.
Especially for removable panels and parts.
Most of ours DIN912 Bolts are Titanium Gr.5(Ti-6al4v) alloy material.
It has a round cap with a hex head and is tightened with a socket wrench drive.
Choosing the right cap head for your specific application.
Longer caps are easier to see when fastened, while button and flat head caps are less apt to snag clothing or linkages.
Titanium alloy cap screws have a great appearance, those with a black oxide or armor coat finish resist corrosion.
Stock up on socket head cap screws from Grainger to expedite engine and machine maintenance.
Since the head of the DIN912 socket head cap screw can be embedded in the component.
A large torque can be applied and the joint strength is high, which is often used for a joint with a compact structure and a smooth appearance.
Hexagon socket screws are often used in machinery because of their advantages of easy fastening, disassembly, and difficulty in slipping.
The Standard We Can Do
DIN912TAP(Tapered Head)
DIN931
ISO14583
The drawing of Socket Head Cap Screws

The detailed dimension of Socket Head Cap Screws
Thread d
M1,6
M2
M2,5
M3
M4
M5
M6
M8
M10
M12
(M14)
M16
M20
M24
M30
M36
M42
M48
M56
M64
P
0,35
0,4
0,45
0,5
0,7
0,8
1
1,25
1,5
1,75
2
2
2,5
3
3,5
4
4,5
5
5,5
6
b
15
16
17
18
20
22
24
28
32
36
40
44
52
60
72
84
96
108
124
140
dk
max.
3,00
3,80
4,50
5.50
7,00
8,50
10.00
13,00
16,00
18,00
21,00
24,00
30,00
36,00
45,00
54,00
63,00
72,00
84,00
96,00
max. for grooved head
3,14
3,98
4,68
5.68
7,22
8,72
10,22
13,27
16,27
18,27
21,33
24,33
30,33
36,39
45,39
54,46
63,46
72,46
84,54
96,54
min.
2,86
3,62
4,32
5,32
6,78
8,28
9,78
12,73
15,73
17,73
20,67
23,67
29,67
35,61
44,61
53,54
62,54
71,54
83,46
95,46
da
max.
2
2,6
3,1
3,6
4,7
5,7
6,8
9,2
11,2
13,7
15,7
17,7
22,4
26,4
33,4
39,4
45,6
52,6
63
71
ds
max.
1,60
2,00
2,50
3,00
4,00
5,00
6,00
8,00
10,00
12,00
14,00
16.00
20,00
24,00
30,00
36,00
42,00
48,00
56,00
64,00
min.
1,46
1,86
2,36
2,86
3,82
4,82
5,82
7,78
9,78
11,73
13,73
15,73
19,67
23,67
29,67
35,61
41,61
47,61
55,54
63,54
e
min.
1,733
1,733
2,303
2,873
3,443
4,583
5,723
6,863
9,149
11,429
13,716
15,996
19,437
21,734
25,154
30,854
36,571
41,131
46,831
52,531
h
max.
0,34
0,51
0,51
0,51
0,6
0,6
0,68
1,02
1,02
1,45
1,45
1,45
2,04
2,04
2,89
2,89
3,06
3,91
5,95
5,95
k
max.
1,60
2,00
2,50
3,00
4,00
5,00
6,0
8,00
10,00
12,00
14,00
16,00
20,00
24,00
30,00
36,00
42,00
48,00
56,00
64,00
min.
1,46
1,86
2,36
2,86
3,82
4,82
5,7
7,64
9,64
11,57
13,57
15,57
19,48
23,48
29,48
35,38
41,38
47,38
55,26
63,26
r
min.
0,1
0,1
0,1
0,1
0,2
0,2
0,25
0,4
0,4
0,6
0,6
0,6
0,8
0,8
1
1
1,2
1,6
2
2
s
nominal
1,5
1,5
2
2,5
3
4
5
6
8
10
12
14
17
19
22
27
32
36
41
46
max.
1,58
1,58
2,08
2,58
3,08
4,095
5,14
6,14
8,175
10,175
12,212
14,212
17,23
19,275
22,275
27,275
32,33
36,33
41,33
46,33
min.
1,52
1,52
2,02
2,52
3,02
4,020
5.02
6,02
8,025
10,025
12,032
14,032
17,05
19,065
22,065
27,065
32,08
36,08
41,08
46,08
t
min.
0,7
1
1,1
1,3
2
2,5
3
4
5
6
7
8
10
12
15,5
19
24
28
34
38
v
max.
0,16
0,2
0,25
0,3
0,4
0,5
0,6
0.8
1
1,2
1,4
1,6
2
2,4
3
3,6
4,2
4,8
5,6
6,4
dw
min.
2,72
3,48
4,18
5,07
6,53
8,03
9,38
12,33
15,33
17,23
20,17
23,17
28,87
34,81
43,61
52,54
61,34
70,34
82,26
94,26
w
min.
0,55
0,55
0,85
1,15
1,4
1,9
2,3
3,3
4
4,8
5,8
6,8
8,6
10,4
13,1
15,3
16,3
17,5
19
22
Thread d
M1,6
M2
M2,5
M3
M4
M5
M6
M8
M10
M12
l
ls
lg
ls
lg
ls
lg
ls
lg
ls
lg
ls
lg
ls
lg
ls
lg
ls
lg
ls
lg
nominal
min.
max.
min.
max.
min.
max.
min.
max.
min.
max.
min.
max.
min.
max.
min.
max.
min.
max.
min.
max.
min.
max.
2,5
2,3
2,7
full thread
3
2,8
3,2
full thread
4
3,76
4,24
full thread
5
4,76
5,24
full thread
6
5,76
6,24
full thread
8
7,71
8,29
full thread
10
9,71
10,29
full thread
12
11,65
12,35
full thread
16
15,65
16,35
full thread
20
19,58
20,42
2
4
full thread
25
24,58
25,42
5,75
8
4,5
7
full thread
30
29,58
30,42
9,5
12
6,5
10
4
8
full thread
35
34,5
35,5
11,5
15
9
13
6
11
full thread
40
39,5
40,5
16,5
20
14
18
11
16
5,75
12
full thread
45
44,5
45,5
19
23
16
21
10,75
17
5,5
13
full thread
50
49,5
50,5
24
28
21
26
15,75
22
10,5
18
55
54,4
55,6
26
31
20,75
27
15,5
23
10,25
19
60
59,4
60,6
31
36
25,75
32
20,5
28
15,25
24
65
64,4
65,6
30,75
37
25,5
33
20,25
29
70
69,4
70,6
35,75
42
30,5
38
25,25
34
80
79,4
80,6
45,75
52
40,5
48
35,25
44
90
89,3
90,7
50,5
58
45,25
54
100
99,3
100,7
60,5
68
55,25
64
110
109,3
110,7
65,25
74
120
119,3
120,7
75,25
84
130
129,2
130,8
140
139,2
140,8
150
149,2
150,8
160
159,2
160,8
180
179,2
180,8
200
199,07
200,92
220
219,07
220,92
240
239,07
240,92
260
258,95
261,05
280
278,95
281,05
300
298,95
301,05
thread d
(M14)
M16
M20
M24
M30
M36
M42
M48
M56
M64
l
ls
lg
ls
lg
ls
lg
ls
lg
ls
lg
ls
lg
ls
lg
ls
lg
ls
lg
ls
lg
nominal
min.
max.
min.
max.
min.
max.
min.
max.
min.
max.
min.
max.
min.
max.
min.
max.
min.
max.
min.
max.
min.
max.
16
15,65
16,35
20
19,58
20,42
full thread
25
24,58
25,42
full thread
full thread
30
29,58
30,42
full thread
full thread
full thread
35
34,5
35,5
full thread
full thread
full thread
full thread
40
39,5
40,5
full thread
full thread
full thread
full thread
45
44,5
45,5
full thread
full thread
full thread
full thread
full thread
50
49,5
50,5
full thread
full thread
full thread
full thread
full thread
55
54,4
55,6
full thread
full thread
full thread
full thread
full thread
full thread
60
59,4
60,6
10
20
full thread
full thread
full thread
full thread
full thread
full thread
65
64,4
65,6
15
25
11
21
full thread
full thread
full thread
full thread
full thread
70
69,4
70,6
20
30
16
26
full thread
full thread
full thread
full thread
full thread
full thread
80
79,4
80,6
30
40
26
36
15,5
28
full thread
full thread
full thread
full thread
full thread
full thread
90
89,3
90,7
40
50
36
46
25,5
38
15
30
full thread
full thread
full thread
full thread
full thread
full thread
100
99,3
100,7
50
60
46
56
35,5
48
25
40
full thread
full thread
full thread
full thread
full thread
full thread
110
109,3
110,7
60
70
56
66
45,5
58
35
50
20,5
38
full thread
full thread
full thread
full thread
full thread
120
119,3
120,7
70
80
66
76
55,5
68
45
60
30,5
48
16
36
full thread
full thread
full thread
full thread
130
129,2
130,8
80
90
76
86
65,5
78
55
70
40,5
58
26
46
full thread
full thread
full thread
full thread
140
139,2
140,8
90
100
86
96
75,5
88
65
80
50,5
68
36
56
21,5
44
full thread
full thread
full thread
150
149,2
150,8
96
106
85,5
98
75
90
60,5
78
46
66
31,5
54
full thread
full thread
full thread
160
159,2
160,8
106
116
95,5
108
85
100
70,5
88
56
76
41,5
64
27
52
full thread
full thread
180
179,2
180,8
115,5
128
105
120
90,5
108
76
96
61,5
84
47
72
28,5
56
full thread
200
199,075
200,925
135,5
148
125
140
110,5
128
96
116
81,5
104
67
92
48,5
76
30
60
220
219,075
220,925
101,5
124
87
112
68,5
96
50
80
240
239,075
240,925
121,5
155
107
132
88,5
116
70
100
260
258,95
261,05
141,5
164
127
152
108,5
136
90
120
280
278,95
281,05
161,5
184
147
172
128,5
156
110
140
300
298,95
301,05
181,5
204
167
192
148,5
176
130
160
DIN912 Socket Head Cap Screws
For more information please feel free to contact us, Ade-titanium@hotmail.com
Whatsapp, +86-18291755582; Skype, Ade-0917